Your Playbook
Requirements
Most companies seek to improve their culture by developing a 'management system' that is custom designed for their business. Your role is to provide stability and consistency across multiple locations and make improvements to your processes and results year over year. And obviously we can't forget the financial improvements that must be reached.
We have mastered a simple, visual, and highly effective operating system that can be customized to fit your corporate requirements. This operating system provides our clients with fully automated sustainability.
(4) Components to Deploy Lean & Build Your Operating System
The objective is to design a simple, visual, standardized approach for reducing waste & variation so that processes are stable and results are predictable. New employees are to be trained in the new operating system and the day to day expectations are understood. When traveling to multiple corporate locations there is common terminology, common metrics, common problem-solving tools, all sustained by this scalable operating system.
Our operating system consists of 4 parts:
Enterprise Alignment: Aggressively deselect what is being worked on. Prioritize all activities by benefit and effort. Measure what matters and align all parts of the organization to the customer.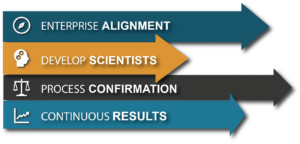 Develop Scientists: Never-ending development of skills for every employee. Technical, communication, teamwork, and problem-solving.
Process Confirmation: Direct observation of subordinates performing work to standard. Standard work is defined as "the best-known way and the baseline for further experimentation".
Continuous Results: Rigorous measurement of financial improvement that reinforces the value of Lean Six Sigma principles.
Within each of these components, you will find the "Plays" that help you accomplish these objectives. We have developed an approach to assess and build these plays for our clients.
Your physical playbook comes on an 11×17 3 ring bound clipboard which allows for ease in adding existing standard work processes and determining what new plays are needed to close gaps in other areas.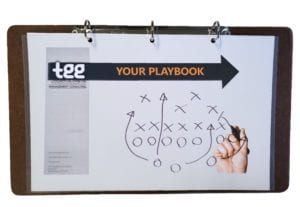 At tgg we can help you build and customize a playbook for your organization. Contact us today to learn more. We primarily work with businesses larger than $100M and our returns are typically measured in EBITDA or free cash flow. Our clients receive a return of 5 to 7X on their consulting investment. A typical engagement with TGG lasts 6 to 18 months and investments range from $25,000 – $150,000 for a single location.