Operational Excellence & Process Transformation Summit
TGG Board Member, John Biedry, was the chairperson for the Operational Excellence & Process Transformation Summit held in Boston, Mass in November 2019. Knowing the important role Lean plays in operations and processes, he invited our President Zack Guthrie to be a speaker at the event. John also spoke at the event (pictured below).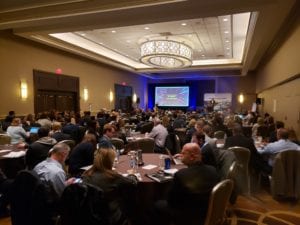 Zack was one of 25 speakers and led two sessions during the three-day conference. The first was on our "tgg Playbook" which lays out the four components of Lean transformation: Enterprise Alignment, Develop Scientists, Process Confirmation, and Continuous Results. The second session focused on Leader Standard Work (LSW) and the importance of strategic alignment.
Interested in learning more about our Playbook? Visit this page to learn about the tools tgg utilizes that make up each of these four components.
Would you like to have Zack speak at one of your events? Contact us today!